Environmental labels and certificates
At Beissier, we maintain a firm commitment to the environment. We work each day to improve our management policy and anticipate coming legislative changes. At the product level, we manufacture materials that are safe, healthy, and sustainable both for the person applying them and the user who will enjoy them. We work non-stop to achieve the pertinent certifications that show both our commitments and the degree of environmental compliance with these.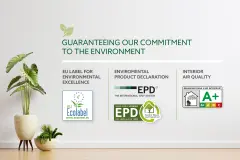 ECOLABEL: EU LABEL FOR ENVIRONMENTAL EXCELLENCE

The EU Ecolabel is a sign of environmental excellence granted to products and services that meet high environmental standards throughout their life cycle; from the extraction of raw materials to production and distribution and the elimination of waste. This ecolabel serves to provide consumers with guidance and accurate information on said products that is not misleading and has a scientific basis.

Drywall Primer and Isolfix stain covering paint are among Beissier products holding EU Ecolabel.


- Dry Wall Primer

- Isolfix al agua




EPD: ENVIRONMENTAL PRODUCT DECLARATION

Environmental declarations offer quantified information on a product's impact on the environment, through an analysis of its complete life cycle. EPDs are Type III declarations according to the International Standardization Organization. Environmental Product Declarations are used in the construction sector to assess the life cycle of buildings and to compare different products used for the same purpose, analyzing product life cycles.


EPDs are essential for obtaining sustainable construction certificates such as LEED, BREEAM, WELL, DGNB or HQE® and are in increasing demand for the execution of public and private works projects.


As leader in the filler market, BEISSIER became the first European company in the sector to obtain an EPD in 2015 for the following AGUAPLAST products:


- AGUAPLAST: First putty brand in Europe to obtain the EPD certificate. Certificate obtained for:


- Aguaplast Universal Pro

- Aguaplast Renovation

- Aguaplast Super fine

- Aguaplast Standard / Alto Standard

- Aguaplast Mont Blanc


Accordingly, it provides painters and construction professionals with all details regarding the life cycle of the product with a view towards demonstrating its commitment with the implementation of sustainable buildings around the world.

At Beissier, we continue to work on the communication of our products' environmental profiles with transparency and credibility, so that the technical information on these is available to anyone who needs it.

FRENCH LABELLING ON EMISSIONS: INTERNAL AIR QUALITY

This label is mandatory in France for most interior construction materials and is based on their total Volatile Organic Compound (VOC) emissions after 28 days.

The label rates products with letters from highest (worst) emissions class 'C' to lowest (best) 'A+'. The emissions class is self-declared by the manufacturer.


AGUAPLAST powder fillers are all rated A+, same as 90% of ready mixed formulations.